Happy 2021!
In our last post we presented the Mid-Century Modern model 'Holiday Homes' that were designed by William F. Baker, and built by Cox & Baker, during the 1950's and 60's. At least seven 'Holiday Homes', held annually, were built and introduced to the Grosse Pointes between 1951 and 1962.
This week we are going to introduce you to some of the homes that were owned by the well-known Holley family. At one time George Malvin Holley Sr. owned five homes in Grosse Pointe, two of which were designed by well-respected English architect Raymond Carey.
The Holley's were a prominent family in Detroit during the first half of the 20th century. The head of the family was George M. Holley Sr., born in Port Jervis, New York in 1878. Having graduated with a degree in automotive engineering and design Mr. Holley founded the Holley Motor Company with his brother Earl in 1899. Between 1902, and 1906, the company sold over 600 Holley Motorette automobiles. However, it was the design of a carburetor that brought the company a tremendous amount of success and recognition after their invention helped revolutionize gasoline engine development. The Holley Motor Company ultimately became the world's largest independent manufacturer of carburetors, supplying Ford, Pierce-Arrow, Winton, Oldsmobile and Buick. Major companies also used Holley products for the production of motorcycles, racecars, farm vehicles, industrial engines, aircraft, and marine engines. George and Earle Holley were inducted into the Automotive Hall of Fame in 1995. George M. Holley Sr. passed in 1963. Source: www.findagrave.com
During his life George M. Holley and his wife Margery, at one time, owned five houses in the Grosse Pointes - his own home, the houses of his two sons (George Holley Jr., and John C. Holley), the home of his brother Earl, and Earl's son Danforth Holley.From our research, we understand each of these houses had five servants. In total around 25 servants worked in the Holley residences. If one house needed an extra servant, Mr. Holley would move the servants around. Mr. Holley also owned three airplanes (employing a pilot), and a summer ranch of 300 acres in upstate New York.
The Holley brothers, George and Earl, married sisters Margery and Elizabeth Corliss. George and Margery resided at 234 Provencal, while Earl and Elizabeth lived at 194 Provencal with their son Danforth. Prior to the Holley families moving to Provencal the bothers and their wives both resided on Burns Ave. in Indian Village (at numbers 2253 and 2151 respectively). George M. Holley's sons, George Jr. and John, both worked for their father at the Holley Carburetor Company. George Holley Jr. graduated from Cornell University in 1938; in 1953 he became president of the Holley Company and chairman in 1965. When the company was merged with Colt Industries in 1968, Mr. Holley stayed on as a consultant until 1973. George M. Holley Jr. passed in 1983.
The Holley Homes
234 Provencal – designed by Raymond Carey, 1929 – home of George M. Holley Sr.
The property is reminiscent of an English Country Estate. This architectural approach is characterized by superb craftsmanship and details, including the brickwork, limestone detailing around the doors and windows, along with subtle decorative additions across the exterior. Constructed from solid stone with a slate roof, many of the rooms feature large windows, clearly evident on the front elevation, which is a common trait of many English manor homes. The home, built in 1929, is approximately 8,122 square feet and is situated on a 100' x 560' lot. As you would expect the interior is just as detailed as the exterior. The first floor features a slate floored vestibule; and a grand oak paneled 16' x 36' foyer with pegged oak floors. The sunken oak paneled living room also features pegged oak floors and a natural fireplace - as depicted in the photos below. The walls in the library are paneled with walnut. It is reported the entire first floor was 'skillfully designed for gracious entertaining'. On the second floor there were four large bedrooms, including a large master suite (25' x 19'), which also contained a natural fireplace. The garage originally included a carriage house for the maids, with a living room, kitchen, two bedrooms and a bath – this was subsequently converted to a large open plan kitchen-living room during an extensive remodel of the property during the late 1970's.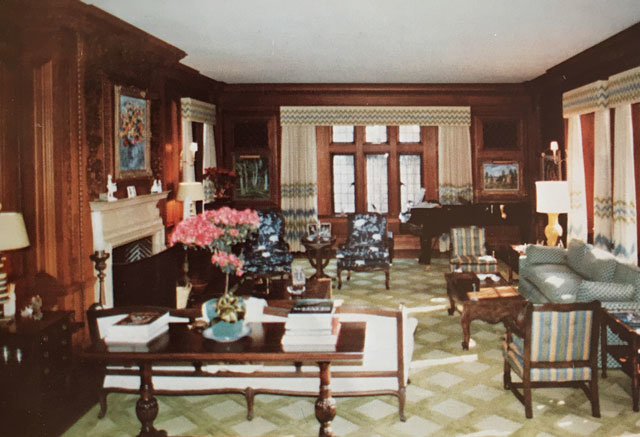 194 Provencal – designed by Raymond Carey, 1931 – home of Earl B. Holley
The 12,185 sq ft home has particularly handsome detailing including Corinthian pilasters; a columned entrance flanked by two large curved bow windows. It is a fantastic example of Georgian architecture and at 12,185 sq ft it is one of the largest homes in Grosse Pointe. Image courtesy of Detroityes.com Raymond Carey became a prominent designer in Grosse Pointe Farms. He was born in England, and grew up in Bath, where some of the finest examples of Georgian architecture in England can be found. He brought his love of Georgian and Tudor homes to Grosse Pointe and Metro Detroit, creating some of Grosse Pointe's finest Georgian residences, along with Cottage Hospital Nurse's House on Ridge Road.
388 Provencal – designer: not known, builder: Hilary Micou, 1956 – home of John C. Holley.
This attractive 7,011 sq ft Georgian brick house is positioned sideways to the street. It was built by Hilary Micou - a prolific builder of homes in Grosse Pointe with multiple homes to his name.The Holley family moved in on March 8, 1957, the same day as John and Jean's daughter, Cynthia was born. To celebrate the birth the builder, Mr. Micou, planted a tree in the front yard as a present to the Holley family - 64 years later, it is not clear if the tree still exists. In 1969 Jean passed. John Holley married his second wife, Mary, in 1971, and at some point the couple moved to 234 Provencal. John's mother Margery passed in 1973.
16814 Crawford Lane - designer: not known, 1955 – home of George M. Holley Jr.
George M. Holley Jr. also resided for many years at 510 Shelden, Grosse Pointe Shores
521 Lake Shore – designed by John L. Pottle, 1960 – home of Danforth Holley.
The stately 5,185 sq ft Georgian Colonial residence is situated on nearly an acre of land overlooking Lake St. Clair. It appears Danforth and his wife Jane, resided at the property until Danforth passed in 1988. In 1989, the property was sold. Image courtesy of Realtor.com
The George M. Holley Sr. homes of Grosse Pointe were a collection of sublime properties, three of which were located on Provencal. No expense was spared in creating these magnificent homes for this prominent family.

We would like to take this opportunity to thank Cynthia Holley for providing us with such interesting stories, and invaluable information on the history of her family's homes.

*Photos courtesy of the Higbie Maxon Agney archives unless stated.




Written by Katie Doelle
Copyright © 2021 Higbie Maxon Agney & Katie Doelle

If you have a home, building or street you would like us to profile please contact Higbie Maxon Agney – homes@higbiemaxon.com - we will try and feature the property.

Posted by Kay Agney on
Tags