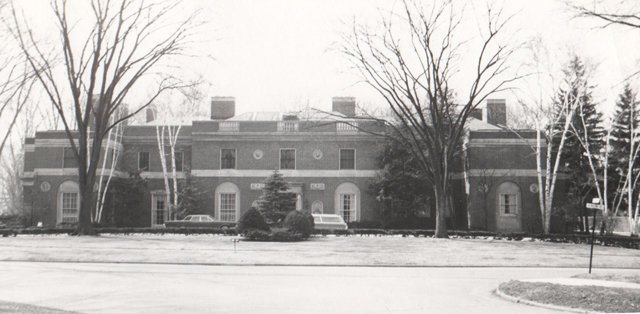 Last week we headed to arguably one of the most prestigious streets in Grosse Pointe - Provencal - to review an impressive Georgian residence, 34 Provencal, completed in 1912, by architectural legend Louis Kamper for John Scripps Sweeney Sr.
This week we head to another iconic Georgian residence, the majestic 211 Vendome, designed by Robert O. Derrick in 1929, for Franklin Caldwell Walker, grandson of whiskey baron Hiram Walker. The 18,158 sq ft property is set on two and a half acres and is possibly one of the finest homes in Grosse Pointe.
211 Vendome is a classically styled Georgian home with all the many traits one would associate with this style of residence built in the 1920's. Grosse Pointe Farms, during the 1920's, was a time of change, prosperity, and architectural transformation. It was a golden era for the area in terms of the prominent architects who were being hired to create the residences that would play such an integral part in transforming the look and feel of the community.
The Walker mansion on Vendome was built from red brick and limestone. The front elevation of this formal Georgian property features a copper roof, limestone entrance with two oversized coupled columns, and urn's set-in limestone niches that flank the entrance. The unique architecture elements of the symmetrical exterior include a capped parapet wall along the roofline, along with a balustrade (a row of small columns topped by a rail) on the roofline, and a distinctive limestone stringcourse (a decorative horizontal band on the exterior wall of a building), which divides the first and second stories along the front of the home. The large windows on the first floor are set within limestone arches, while there are additional decorative limestone elements. Each individual element on the front of the home comes together and complement each other impeccably.
Inside, the property is just as impressive, created for entertaining on a large scale. Rich architectural detailing and distinctive elements are present in nearly every room. The ten oversized fireplaces take center stage in many of the rooms, along with the 12-foot-high ceilings. The first floor features a beautiful sweeping staircase and a 41' x 11' sq ft gallery. The gallery leads to the maple-paneled 18' x 20' sq ft library which has a fireplace with an oversized carved wood mantel. The 41' x 21' sq ft living room and regal 33' x 21' sq ft dining room both have large carved fireplaces along with wide-planked hardwood flooring. The first floor also includes an 18' x 20' sq ft morning room, a flower room, and a substantial sized 17' x 21' sq ft kitchen. The second floor has an owner's suite (with a sitting room, master bedroom, two bathrooms, two dressing rooms, and two natural fireplaces). There is also an additional 17' x 18' sq ft sitting room, four bedrooms, along with six additional rooms for maids. Meanwhile, the basement contains a 50' x 20' sq ft games room, a tap room with a wine vault, a large storage room along with a laundry room, an ironing room, and a vegetable room. In addition, there is a four-car garage with a two-bedroom apartment above.
211 Vendome was commissioned by Franklin Caldwell Walker, grandson of Hiram Walker, an American entrepreneur and founder of Hiram Walker and Sons Ltd. Distillery in Windsor, Ontario.Hiram Walker passed away in 1899, and the distillery was sold in 1926. As an heir to the fortune Franklin Walker decided to build a grand home and commissioned the mansion on Vendome. According to numerous reports Walker did not have an occupation (that anyone could recall) and his various bad habits got him into scrapes with the law. Despite the trouble Walker's new property in Grosse Pointe was taking shape. However, Franklin Walker would never move into his new home, "between prohibition, the Great Depression and his own spending habits, Walker lost the house to the bank before construction was fully complete. He subsequently moved to Pasadena, a place where many Grosse Pointe socialites travelled".

It is reported after Franklin Walker's departure 211 Vendome was left unfinished and sat empty for several years. In 1936, the property was held by the Union Guardian Trust Company. According to our files the residence was not foreclosed but was waiting for Franklin Walker to sign off on the sale to be relieved of his obligations. In March 1937, our files indicate $10,000 (around $200,000 today) worth of landscaping was undertaken on the estate. In July, that same year, the house was listed for sale for $175,000 (around $3.5 million today). In March 1938, the property was purchased by Wendell Anderson, long-term president of Bundy Tubing. Mr. Anderson bought the house from the Union Guardian Trust Company for a reputed $125,000 ($85,000 cash and $40,000 trade from his home on Washington). Upon purchasing his new home Mr. Anderson hired Belgian craftsmen to finish the ornamental plaster and rich woodwork inside, which took a further three years to complete. After Wendell Anderson passed in October 1959, it appears his wife, Suzanne continued to reside in the property until July 1962. It was listed for sale for $200,000 (around $1.9 million today) and purchased by Mr. and Mrs. George Simon who owned the property until around 2017.

The architect, Robert O. Derrick played a pivotal role in helping transform the architectural scene in Grosse Pointe during the 1920's. He was a prolific architect in the community, specializing in creating large formal residences for prominent clientele who were looking for 'something spectacular'. Born in Buffalo, New York, Derrick graduated from Columbia University, in 1917. Much of his work in Grosse Pointe occurred during the 1920's. One of his earliest projects was the Grosse Pointe Club, in 1923. In 1927, he went to England to study English Domestic Architecture. The trip fueled his love for Georgian architecture, which is evident in many of his later projects, including 211 Vendome. He then went on to design multiple homes, and several public buildings, including the Grosse Pointe Farms water filtration and pumping station in 1930.

211 Vendome is a firm favorite in Grosse Pointe and is acknowledged by Kay Agney as one of her favorite houses she has sold, such a majestic and historic estate.

*Photos courtesy of the Higbie Maxon Agney archives unless stated.

Written by Katie Doelle
Copyright © 2022 Higbie Maxon Agney & Katie Doelle




If you have a home, building or street you would like us to profile please contact Katie Doelle – ktdoelle@gmail.com - we will try and feature the property.

Posted by Kay Agney on
Tags