Last week we featured 16500 E. Jefferson, the former home of Louis Mendelssohn's youngest daughter, Lydia. The property was razed in 1996, and the land subdivided.
This week we are going to feature the work of J. Robert F. Swanson. This talented architect was also linked to the Mendelssohn family having designed the home of Gordon Mendelssohn, Lydia's brother.
J. Robert F. Swanson was involved in creating at least four homes in Grosse Pointe –
21 Colonial Road, (1929)
677 Middlesex (1937)
280 Vendome Ct (1937)
203 Cloverly – in conjunction with Eliel and Eero Saarinen (1939)
J. Robert F. Swanson was born in Menominee, Michigan, in 1900. His parents, both of who were natives of Sweden, relocated the family to Grand Rapids, and later to Adrian. Robert graduated from the University of Michigan with a degree in architecture. During his time there he met Eliel Saarinen, who was a guest faculty member, along with Henry (Harry) Scripps Booth, who became a close friend of Swanson.
In 1924 Robert, and Henry (Harry) Scripps Booth, began work at Cranbrook, and that same year formed the architectural firm of Swanson and Booth. The firm, for many years, collaborated with the internationally renowned modernist architects Eliel Saarinen and his son Eero.
In 1926 Swanson married Saarinen's daughter Pipsan - an accomplished designer in her own right. They were lifelong companions and design partners. In 1933, Robert Swanson started his own firm, Swanson Associates, and Pipsan joined the firm as the interior designer. Their work covered a broad spectrum of projects - residences, schools, universities, churches, airports, banks and government, industrial, and commercial developments. Together, their combined skills allowed them to create both exterior and interior of many buildings: Source: http://www.cranbrook.edu/
In 1924 Swanson was commissioned by Gordon Mendelssohn to create "Quartermore". The huge estate was located on in Bloomfield Hills on East Long Lake Road, adjacent to Cranbrook. Based on information from the Cranbrook Center for Collections and Research we understand the house was later divided into two residences following a fire to the middle section. Image source: Cranbrook Center for Collections and Research.
In 1928 Swanson was hire by Corrado Paducci – a prominent architectural sculptor, in Detroit, known for his early - mid 20th century works. Located in Grosse Pointe Shores, 21 Colonial Road is a striking brick built Mediterranean styled 2,976 sq ft home. The design features a unique first floor plan - containing a cloister and pool, a step down studio (22' x 16'), and a large living room/dining room (30' x 17'). It is believed the living room is a close copy of a room in the Davanzati Palace, Florence. The second floor has four bedrooms.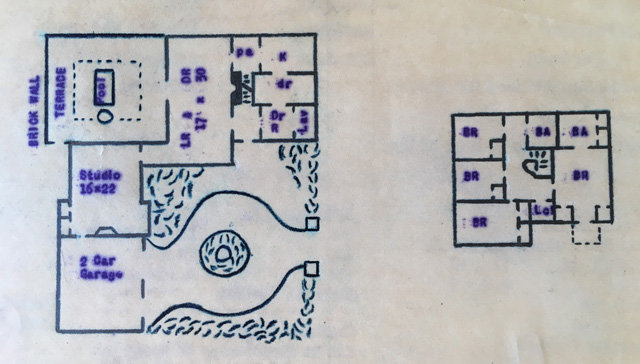 Nine years later, in 1937, Swanson created two homes – 677 Middlesex for Dr. Hugh Stalker, and 280 Vendome Ct. The architectural style of the two homes were poles apart.
677 Middlesex is a very interesting design – the front façade could be described as a modernist structure, built from brick with a flat façade and roof, with small windows, while the rear of the home has a clear Mediterranean feel to it. The large 4,135 sq ft residence is located on two lots. The first floor features a substantial living room (17' x 31' sq ft,), a library (11' x 17' sq ft), dining room (12' x 19' sq ft), a flower room, and a narrow porch. The second floor includes four large bedrooms, two smaller bedrooms for maids along with a large sleeping porch at the rear of the home. The gardens were spectacular. Based on our files we understand at one point they included one thousand daffodils, two hundred rose bushes, fifty types of clematis, and an abundance of fruit trees. The garden was renowned for its plan and execution, and was regularly shown to students at the Michigan Horticultural School. It is not known who designed the garden. The image of the front elevation is courtesy of Googlemaps.
280 Vendome Court, on the other hand, is a distinctive 3,626, sq ft brick and stone Colonial created in the style of the Williamsburg period. The four-bedroom property features walnut floors, and wormy chestnut paneled library.
In 1939, J. Robert F. Swanson was part of the team that created 203 Cloverly for industrialist Charles J. Koebel, owner of the Koebel Diamond Tool Company. Eliel Saarinen and Eero designed it (their first joint commission), Eliel's daughter, Pipsan, designed the interior, while Swanson created the final plans for the property. It is the only home in Grosse Pointe to be designed by the internationally renowned team. The two-story, 5,600 square-foot Modernist structure is built from tan brick with a flat roof while the strong external horizontal lines of the home ensure the design fits in as part of the landscape. Inside the five bedroom home, the first-floor living room/dining room (over 40' in length) and music room are all one space that overlooks the garden. The floor plan itself is sub divided with sets of windows, built in seating at one end, and a recessed ceiling at the other to create individual spaces. The floors in the foyer, living room and library are parquet; beautiful mahogany paneling is used throughout the house, while the garden room (family room) has a one of a kind bamboo ceiling. The second floor contains five bedrooms and four bathrooms. When the house was constructed an advanced electrical and sound system was built into the walls, which could be controlled from the first floor and the master bedroom. Image courtesy of: Katie Doelle.
203 Cloverly is, in many ways, similar in appearance to the front façade of 677 Middlesex. In 1985 the house was purchased from the Koebel family, restored to its original condition and in 2009 it was listed on the National Register of Historic Places. Source: Grosse Pointe Historical Society.

J. Robert F. Swanson had a long and distinguished career. He passed, in 1981, having worked with some extraordinary people, on some extraordinary projects.

*Photos courtesy of the Higbie Maxon Agney archives unless stated.




Written by Katie Doelle
Copyright © 2020 Higbie Maxon Agney & Katie Doelle

If you have a home, building or street you would like us to profile please contact Higbie Maxon Agney – homes@higbiemaxon.com - we will try and feature the property.

Posted by Kay Agney on
Tags